AKIHO 17-4486 ,HD A, ED O, eyes clear, teeth complete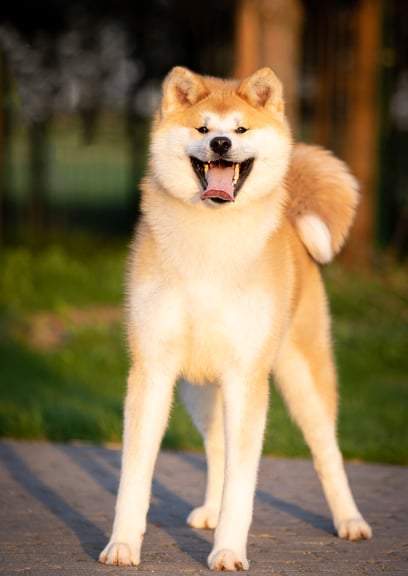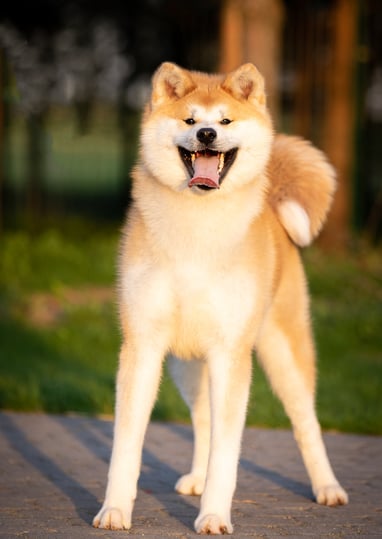 Lithuanian Junior Champion, Latvian Junior Champion, Polish Junior Champion
Sire ( Megapolis Style Masao ): Grandsire of dam line ( Megapolis Style Masao ): Akita Winner, Soken Male 1 Place, Estonian Junior Champion -2xJCAC- 2xBOB, Lithuanian Champion, Vicechampion European Dogshow 2014, Belarus Champion
Grandsire ( Senpou Go Okayama Nishi Oota ): Tokuyuu prize, Russian AKIHO Club Champion, Russian Ch., Latvia Ch., Lithuanian Ch., CACIBs
Sire's grandsire ( Birin Go Musashi Aiwa ): European Junior Champion 2007, Croatian Junior Champion 2007, 116TH Akiho Honbuten ( Waka Inu ) 3RD At 11 Months, Kantou Region Show ( Waka Inu ) 1ST At 10 Months, Chiba Show ( Waka Inu ) 2ND At 10 Months
AKIHO 16-357, HD A, ED 0, eyes clear, Certificate of DNR profiling, teeth complete, amelogenesis imperfecta N/N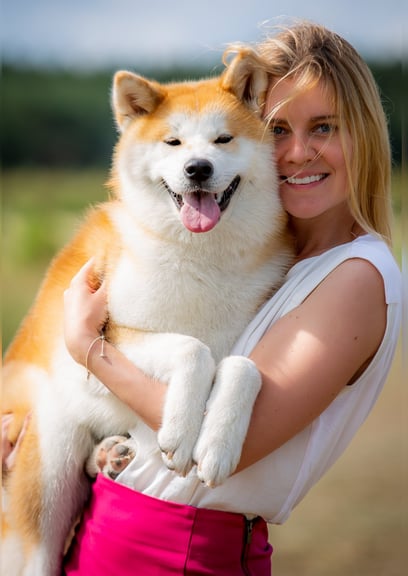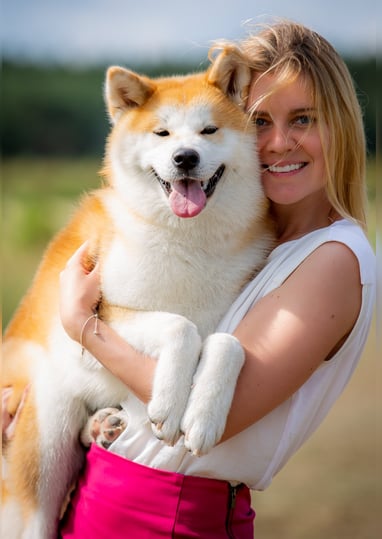 European Hozonkai 2019 In Italy Koinu Kyoran 1 Place, Poland JCAC, Qualification For Crafts 2020, Lithuanian Champion, World Dog Show 2021 Champion class - 3 place
Sire ( Hirou Go Fuen No Oka ) Interchampion, European Hozonkai Tokuyuu Wnner 2019; Top The Best Lithuanian dog 3 Place , PL CH, Finland Champion, Finland Winner 2018-Cacib-Bob, Crufts nomination 2019 , Speciality Akita Show Junior Winner in Germany 2017, , Akita Cup Vice Winner Soken Class 2018, Estonian Champion, Lithuanian Champion, Latvian Champion, Baltic Champion, LTJCH, LV JCH, BIG 1, LTJCH, EST JCHBALTIC JUNIOR CHAMPION. VDH 2x JCAC, VDH CAC-BOS,
Grandsire of dam line ( Megapolis Style Masao ): Akita Winner, Soken Male 1 Place, Estonian Junior Champion -2xJCAC- 2xBOB, Lithuanian Champion, Vicechampion European Dogshow 2014, Belarus Champion
Megapolis Style Ginrei
AKIHO
AKIHO 17-4486 ,HD A, ED O, eyes clear, teeth complete, RETIRED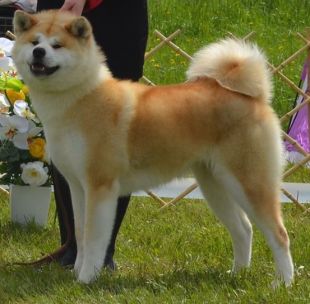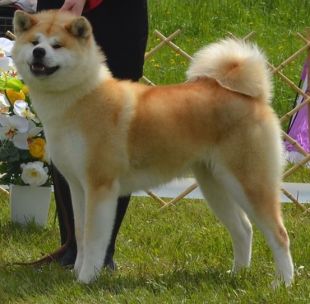 LITHUANIAN CHAMPION, LV, CH, CH, BLR CH
Sire ( Houkou Go Fukuoka Sekido ): Akiho- Russia Champion, Interchampion Champion. Grand Russian Champion, National Akita Club Champion. Estonian Champion, Lithuanian Champion, Russian Champion, RKF Champion, Russian Junior Ch. CACIBs
Grandsire ( Kita No Tenzan Go Kisarazu Nomura ): Multi Akiho Winner - 5 times Tokuyuu prize winner
Great grandsire ( Kitanojou Go Saginuma Kensha ): Meiyosho Winner 2011
Dam ( Hikari Go Kami No Mori Kensha ): National Akita Club Jun Ch
AKIHO 17-5968, HD A, ED 0, eyes clear, Certificate of DNR profiling, teeth complete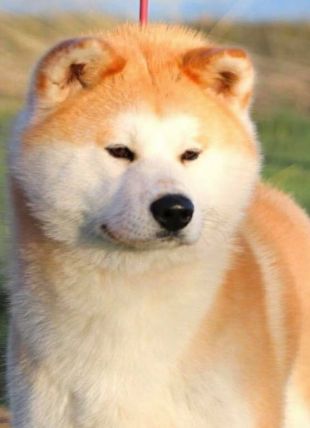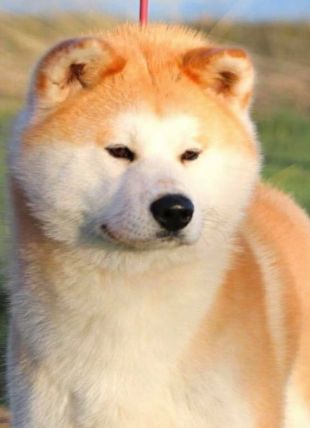 VDH RJ CAC, Vice Junior Champion Akita Club In Germany 2017, Wice Champion Europe 2018, Lithuanian Junior Champion, Estonian Junior Champion, Latvian Junior Champion, Baltic Junior Champion, 2018 KL Winner, Lithuanian Champion, Romanian Champion, Crafts Nomination.
Sire ( Megapolis Style Masao ): Akita Cup Winner, Soken Male 1 Place, Estonian JCH -2xJCAC- 2xBOB, Lithuanian Champion, Vicechampion European Dogshow 2014, Belarus Champion
Grandsire ( Senpou Go Okayama Nishi Oota ): Tokuyuu prize, Russian AKIHO Club Champion, Russian Ch., Latvia Ch., Lithuanian Ch., CACIBs
Grandsire of dam's line ( Houkou Go Fukuoka Sekido, the son of Kita No Tenzan Go Kisarazu Nomura - Multi Akiho Winner - 5 times Tokuyuu prize winner ): AKIHO-RUSSIA Champion, INT Ch., GRAND Russian Ch., National Akita Club Ch., Estonian Ch, Lithuanian Ch., Russian Ch., RKF Ch., Russian Junior Ch., CACIBs
Chinatsu Go Mokaito AKIHO
HD A, ED 0. eyes clear Certificate of DNR profiling, teeth complete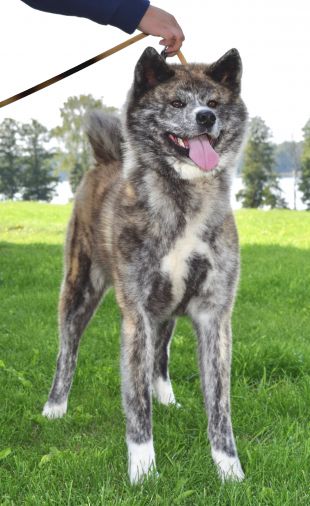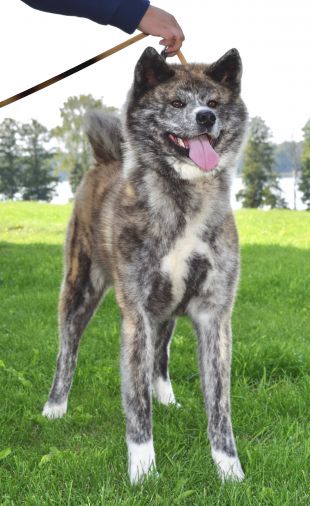 Lithuanian Champion
SIRE ( Kabutora Go Takai Kensha ) : Youken B Male - 1st Place Akiho Russia 2013, Akiho Club in Germany Junior Winner 2014, Latvian Junior Champion, Latvian Junior Winner 2014, Lithuanian Champion, 3 Place World Dog Show 2013, Champion Moldavia, Grand CH Moldavia, CH Belarus, CH Besarabia, Grand Champion Besarabia, Polish Champion, Vicechampion Akita Club Germany 2017
Grandsire ( Ginji Go Touseien ): Tokuyuu prize, Russian AKIHO Winner'2013, Russian Grand Ch, National Akita Club Ch, Russian Ch, Luxembourg Ch, Benelux Winner, Slovenian Ch, Veteran European Winner
Dam ( Megapolis Style Yumetorame ): Youken female- 2st place Akiho Russia 2013, LV JCH, BLR CH
Dam's Sire ( Houkou Go Fukuoka Sekido ): Akiho -Russian Champion, Interchampion, Grand Russian Champion, National Akita Club Ch., Estonian Ch, Lithuanian Ch., Russian Ch., RKF Ch., Russian Junior Ch., CACIBs
Kasumi Go Megapolis Style Di Bordakitainu Kensha
AKIHO
HD A, ED 0,eyes clear, Certificate of DNR profiling, teeth complete, amelogenesis imperfecta N/N